Darjeeling Tea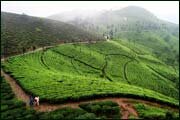 Darjeeling Tea gets it's name from the region in which it comes from, not necessarily the type of tea. While Darjeeling tea is generally a black tea, there are over 87 different estates, processing and cultivating the tea differently in the Himalayan region of West Bengal, India. Darjeeling tea is a well known and prized tea among tea connoisseurs. Darjeeling tea is one of the finest tasting experiences you will likely have and is treated as a tea delicacy.
Darjeeling tea crops are experiencing more and more tourists who come to see where this classy and unforgettable tea comes from. This is evident when you visit Darjeeling and see the bungalows turned rental cabin and crop workers tourist friendly. It is not overzealous to believe that in the near future, the Darjeeling region will be a tourist attraction for the elite and true tea lover's much like Napa valley is to fine wine.
There is much hype in the region about the world-class cup of past time and culture. Darjeeling tea sells at outstanding prices during auctions in Calcutta and Shanghai though it is becoming affordable to the average consumer. With that said, it will generally only be available in specialty teashops. While it is said that the first harvest produces the highest quality of tea with a delicate taste and beautiful aroma, consumers say that other harvests are just as good. The first cultivation generally happens in March, so if you want to try the first batch, find some Darjeeling tea around that time frame. The second harvest takes place around June. Darjeeling tea is harvested in-between flushes or seasons and in rainy season which is considered a monsoon flush.
While Darjeeling tea is not as ancient as other varieties; it is still rich in history. A man by the name of Mr. Campbell introduces tea seeds to the Darjeeling region in 1841. Soon after, others wanted to take part in this fast growing commodity. There were even ten government estates established. The Makaibari estate, which was founded by G.C. Banerjee, went organic in 1988 and only four years later, he took his estate to record levels and became the first to be biodynamic. The estate is still run by the same family, the great grandson Swaraj, and produces some of the finest and most expensive Darjeeling tea in the world. At auction, Darjeeling tea cultivated from the Makaibari estate fetches over five hundred dollars per pound in US dollars.
Darjeeling tea has a thin and light color with a floral aroma. The taste can be described as lightly musky and leaves a sweet and cooling aftertaste. Many tea connoisseurs refer to this as muscatel. While this is traditionally a black tea, more and more estates are producing green, oolong and even some prized white teas. These may be a little more difficult to find, but will be well worth your search.
Darjeeling tea is unique in that it can not be cultivated anywhere else in the world. This is not due to geographical, climate or regional constraints, rather the work of an international trade law established by the government of India. This is similar to the same laws applicable to the Champagne of the France regions. If you are considering visiting a one-of-a-kind Darjeeling estate, there is a lengthy list to chose from. Aside from the Makaibari estate, others include Arya, Chamong, Glenburn, Lingia, Castleton, Jungpana, Margret's Hope, Risheehat, Ambootia, Avongrove, Balasun, just to name a few.
It is a requirement among tea connoisseurs to try Darjeeling tea at least once and more probable to have some fresh for special occasions - perhaps a wedding celebration or a family reunion. Your centerpiece beverage will likely become a conversational piece, from the estate which it is from, to the interpreted fine tastes, to the type of tea used. Darjeeling tea will arouse your taste buds, heighten your smell, offer a delectable experience, but will surely not be a disappointment.
Disclaimer: The information contained on this site is not intended to replace the diagnosis, treatment, consultation and services of a qualified Medical Practitioner. All information presented is in summary form and intended only for informational purposes. Always seek immediate medical attention for any illness you may have and never disregard the advice from qualified Medical Practitioners as something you have read on this site (or related sites) could be misinterpreted.