Essential Tea Accessories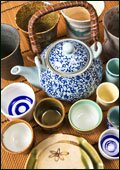 We have seen tea being served in a variety of ways and with a variety of tea accessories like tea cozies. Look around and you will see different types of tea accessories. These tea accessories can range from the practical to the purely frivolous. However if you wish to make a cup of tea which is considered as being almost perfect then you will need only a few essential items and of course a fine blend of tea. To be even more accurate you will need to have only five basic tea accessories to brew that perfect cup or mug of tea.
So what are these five tea accessories you might ask, and will they cost you an arm and a leg? Well these items are not too expensive and you should have no trouble in purchasing any of these items. In brief these must have tea accessories are;
» A tea pot which is the right size
» A tea strainer
» A storage container for tea
» A kettle
» And a timer
As you see these tea accessories are ones that most of us already have or they can be bought quite easily. All other tea accessories that you will find described as being vital to the art of brewing tea are frivolous (or fun) or needed for specialist tea ceremonies and similar. Now that you know what the essentials are let's see how each of these items will help you make the perfect mug of great tasting tea.
A Tea Pot
The first item on our list of tea accessories is that of the tea pot. Here for day to day tea drinking you will need a pot which can hold the amount of tea which you will drink in one sitting. This means that if you plan on drinking by yourself then you should use a single serving tea pot. This serving size will prevent too much air getting into the tea pot and affecting the flavor and the temperature of the tea.
For the times where you are serving more than one person you should see about using a tea press pot with loose tea in the pot. If you want to use more than one type of tea, you should think about getting a different tea pot for each of these varieties as part of your essential tea accessories. Getting separate tea pots for each variety is best as then you will not be mingling the various tea flavors. This mingling will mess with the true flavor of your tea.

A Tea Strainer
The next must have on your tea accessories list is that of a tea strainer. You will find that there are many different variations of this strainer available on the market. These strainers can take the form of a tea ball, a strainer to place of the spout of the tea pot and even tea baskets. You should think about the amount of tea that you serve and drink and buy a strainer which is appropriate to this need. Having found the strainer which is right for you, it is also necessary to see about getting a storage container for your tea leaves. This is one of the most important tea accessories that you will need as good storage will affect how your tea ultimately tastes.

A Tea Storage Container
When you are looking at the different types of containers for your essential tea accessories supply, you should look for ones which fulfill these criteria; the best type of container should be air tight and sunlight free. The airtight capability will prevent air from entering the container and causing the tea to lose its freshness. By using the correct type of tea storage container you will be able to keep your tea fresh for about 6 months to a year. Additionally you should not keep the tea inside of the freezer, keeping the tea at room temperature is best.
When you are shopping for a good type of tea storage container, the containers which have a glass lids are not ones that you should buy. Also you will need to avoid any glass containers, as these will allow the sun to enter the container's tea leaves.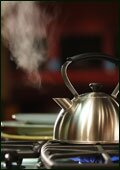 A Tea Kettle
Now while all of these tea accessories are necessary items you will need to look at the right type of kettle to use. These types can be a stove top whistling kettle or an electric kettle which is quick boiling and has an automatic shut-off switch. Now while we are on the subject of heating your tea water you should understand that using the microwave is out of the question as you will not get the right type of boiling time. What this boils down to is that you can not count a microwave as one of your tea accessories and you still need a kettle on your list of your must have tea accessories.
When you are shopping for this tea accessory for brewing your tea you may wonder just why the type of kettle is so important. The reason is that by choosing a kettle which has a quick shut off switch or a whistle, is so that you can judge when the water is at the right temperature for your tea. This is why a good kettle has been added to the list of essential tea accessories.
In short you should understand that while there are teas which need boiling water to make the tea release the flavor, there are other teas which need to have the water reach just the boiling point. By having a kettle which provides you with some warning of the boiling time you can make your tea so that you have a flavorful tea. Hence why the kettle belongs in the list of 5 must have tea accessories.
A Timer
Now the final tea accessories item that you will need to use is that of a timer. The timer is needed for seeing the tea steep to the right amount and time. By using a timer you can control the time that you leave the water and tea leaves mixing in the infusion.
By using all of these essential tea accessories you can make sure that you have the tools needed to make a perfectly tasty cup of tea. Granted you could do without these tea accessories in a crunch but for the connoisseur these five tea accessories listed above are as vital as storing a vintage wine correctly.
Disclaimer: The information contained on this site is not intended to replace the diagnosis, treatment, consultation and services of a qualified Medical Practitioner. All information presented is in summary form and intended only for informational purposes. Always seek immediate medical attention for any illness you may have and never disregard the advice from qualified Medical Practitioners as something you have read on this site (or related sites) could be misinterpreted.